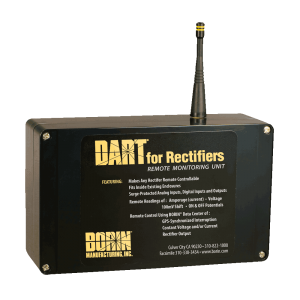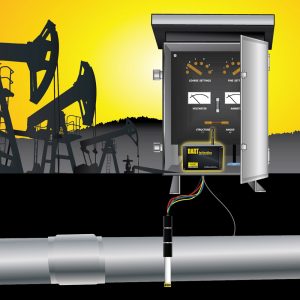 DART for Rectifiers
DART for Rectifiers Remote Monitoring Unit
• Miniaturized
• Quick Install
• Surge Proof
• Gold Terminals
• Modular Design
• 100-Year Data Logger
• Military Grade
• 10-Year Warranty
• Measures All Parameters
• Updates Old Rectifiers
• You Will Love the Price
Size
Fits inside (and updates) existing rectifiers
Material
Fade-proof, bullet-resistant ABS plastic outside, electronics inside
Communication
GSM: Communication with multiple carriers;
Satellite: Used where GSM doesn't reach
Software
Our proprietary BORIN Data Center gives you remote access to your DART for Rectifiers (and therefore your rectifier), enabling you to manage your entire system from one browser window.
Applications
Makes any rectifier remote controllable
Surge-protected analog inputs, digital inputs and outputs
Remote readings of: 
Amperage (current)
Voltage
100mV Shift
ON & OFF Potentials
Remotely control (using the BORIN Data Center):
GPS-synchronized interruption
Constant voltage and/or current
Rectifier output
Capacity
100-year data logger included in each DART for Rectifiers.
Unlimited storage capacity is available upon secure transmission to the BORIN Data Center.
Alternate Communication Systems Available
Radio, fiber-optic, microwave, SCADA, MODBUS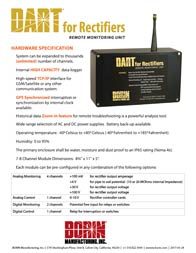 DART for Rectifiers:
Catalog Sheet
DART for Rectifiers
Catalog Sheet
System can be expanded to thousands (unlimited) number of channels.
Internal HIGH CAPACITY data-logger.
High-speed TCP/IP interface for GSM/Satellite or any other communication system.
GPS Synchronized interruption or synchronization by internal clock available.
Historical data zoom-in feature for remote troubleshooting is a powerful analysis tool.
Wide range selection of AC and DC power supplies. Battery back-up available.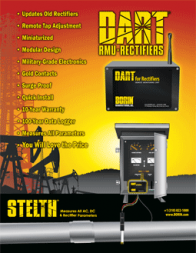 DART for Rectifiers: Illustrated Catalog Sheet
DART for Rectifiers
Illustrated Catalog Sheet
Updates old rectifiers
Remote tap adjustment
Miniaturized
Modular design.
Military-grade electronics
Gold contacts
Surge-proof
Quick install
10-year warranty
100-year data logger
Measures all paramenters