ABOUT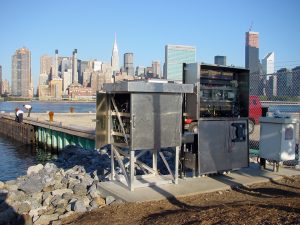 BORIN Manufacturing – Quality, Innovation & Integrity for almost 40 Years
Since its inception 39 years ago, BORIN Manufacturing's cathodic protection sensors and remote monitoring systems have dominated the corrosion-monitoring market, offering top sellers such as their STELTH reference electrodes, DART remote monitoring units, and COMANCHE remote monitoring and control systems.
BORIN's mainstay product is their line of maintenance-free STELTH reference electrodes. Their unique chemistry has many proprietary features, including their Moisture Retention Membrane (MRM™) and internal solid-state electrolyte and ion trapping technology all of which contribute to stable readings and a long life.
The tireless R&D department at BORIN Manufacturing has discovered a new, fourth reference-cell chemistry that is poised to dominate the half-cell market, and make industry staples of copper, silver, and zinc obsolete.
The new line of BORIN STELTH reference electrodes uses palladium as the reference element. These reference electrodes are hydrocarbon-proof (HCP™), making them ideal to use in any environment, from the ocean to the desert, especially in locations rich with hydrocarbons and those with unknown chloride counts.
To expand their product reach in the corrosion control industry beyond reference electrodes, in 1994 BORIN Manufacturing developed the PC-based COMANCHE Remote Monitoring & Control System. The complete remote monitoring system is backed by close to 60 man-years of software development and more than 20 years of field-use, making it the most stable system on the market. This pioneer system has evolved with technology throughout the years and transformed into our robust BORIN Data Center.
The COMANCHE systems are currently monitoring and/or controlling from one to thousands of variables utilizing the latest state-of-the-art technology. This technology gives them the ability to supervise and manage anything – from well heads to gathering systems to pipelines – using any form of communication (such as GSM and satellite).
In 2002, thanks to BORIN's field experience, they anticipated the need for an efficient monitoring unit for test points that could be battery powered. With technological advances in communications, extended-life batteries, and the expansion of the global positioning system, they have been able to bring their sophisticated technology of the well-tested COMANCHE to a low-cost platform with their innovative DART Remote Monitoring Units.
Since the inception of the COMANCHE RMCS, and now with the DART RMU system, BORIN has used a variety of communication formats to transmit the data they collect back to their proprietary BORIN Data Center. This robust software is now web-based and accessible from any web-enabled smart phone, tablet, or laptop.
Though the BORIN Data Center customers can control a wide range of applications, from major international airports requiring thousands of channels, to one-channel applications dealing with DC drainage – and everything in between – including all of the corrosion requirements such as rectifiers, test points, et cetera.
All of this information is being brought into the most sophisticated data center on the market, which is backed up by multiple Tier III servers in undisclosed locations.
"Anything that can be monitored and controlled – we can do," said President Bill Borin.
—
If you have any further questions or comments for us, we'd love to hear them!
Let us know how we can best serve you – give us a call, drop us a line, and we'll show you just how stellar our customer service can be.