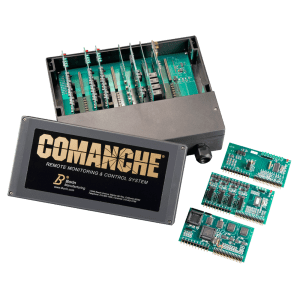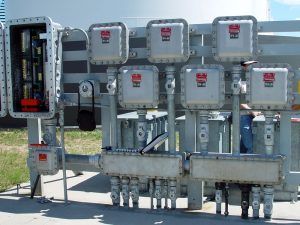 COMANCHE Chief
COMANCHE CHIEF Remote Monitoring and Control Unit
When it's time to decide which remote monitoring and control unit is best to install along your miles of pipeline or in your tank farm – our COMANCHE Chief is your all-in-one answer.
Any COMANCHE Chief you buy is completely expandable from two to thousands of channels, each able to monitor or control:
Cathodic protection rectifiers
Reference electrodes
Anode beds
Instant OFF potential readings
Tide levels
Tank levels
Pressure (i.e. well heads)
Temperature
Flow rates
A synchronized interruption of rectifiers
Valves (on, off, or any position in between)
Security systems (warnings and alarms with text message or e‑mail capabilities)
Each COMANCHE Chief has an internal high-capacity data logger, which stores unlimited readings for the above applications (and more!). Once encrypted and transmitted from the COMANCHE Chief, your data can be managed from one single screen of our robust BORIN Data Center. You can see all of your RMCUs on a single map of your facility/area – color coded by status and clickable for more details – or manage all of your installations from one easy-to-navigate table.
If it corrodes, we can monitor it.
FEATURES
MODELS
SPECIFICATIONS
ORDERING INFO
Number of Channels
2 channels to thousands (unlimited) number of channels
Size
8 Channel Module: 5″ x 8¾" x 3¼"
4-32 Channel Module: 8¾" x 11″ x 3¼"
Modular Design
Built with plug-and-play modular electronic cards configurable to your needs.
Synchronization
GPS-synchronized interruption or synchronization by internal clock.
Primary Enclosure
Water-, moisture- and dust-proof to an IP 65 rating (Nema 4x).
Communications
High-speed TCP/IP network bridge interfaces with any communication system available: GSM, Satellite, radio, fiber optic, SCADA, MODBUS, et cetera.
Internal Storage/Capacity
2 GB on-site capacity data logger. Once your data is downloaded from your COMANCHE to the BORIN Data Center, there is unlimited Data Center storage capacity.
External Storage
Data is encrypted and transmitted to the BORIN Data Center, which has unlimited storage capabilities.
Software
The robust BORIN Data Center allows you to manage your entire cathodic protection system from one screen.
Applications
Monitoring reference electrodes, IR-free reference electrodes, Resistance bonding points, Casing to carrier shorts, DC drainage, DC current/density, AC mitigation monitoring, Pipe to soil potentials, Instant OFF, Depolarization, and more.
Expansion Capacity
Can monitor a simple 2 channel test station all the way to thousands of channels
Data Integrity
Data transmission is encrypted within our protected Virtual Private Network. Ensures data will be safe and exactly the same at the transmitter and receiver.
Warranty
10 year unconditional guarantee
Power Supply
Choice of 110 VAC, 235 VAC or 12-24 VDC power supply. Battery backup available.
Operating Temperature
-40° Celsius to +85° Celsius (-40° Fahrenheit to +185° Fahrenheit)
Catalog: COMANCHE Chief, Steletto, & BORIN Data Center
COMANCHE Chief RCMU
SKU: C-COMANCHE-01
COMANCHE Chief is our most robust RMCU, completely configurable to your needs.
BORIN COMANCHE Chief Remote Monitoring and Control Unit

SKU
C-COMANCHE-01
BORIN Manufacturing
Call or email us for specific information
We will custom design your COMANCHE remote monitoring unit to your needs.
Address
5741 Buckingham Pkwy. Unit B
Culver City, CA 90230
Phone
(310)-822-1000
Email
borin@borin.com