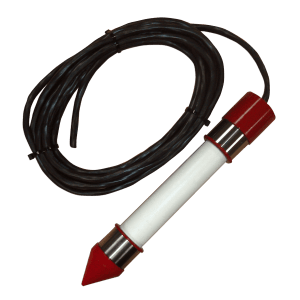 STELTH 7 IR-Free Probe & Rocket
BORIN® STELTH® 7 IR-Free Probe & STELTH® 7 Rocket Solid-State Reference Electrodes
Frustrated with having to shut down or turn off your rectifiers when taking IR-Free ON-potential and OFF-potential readings of a structure?
Dislike the tedious procedure of synchronizing a series of budget-draining interrupters?
Dread replacing whatever cathodic protection monitoring system you install every month, or at best, every few years?
Worried because you can't take OFF-potential readings from your sacrificial anode CP system?
Confronted with high density utility corridors and urban areas where uncontrollable foreign influences making it impossible to obtain valid potential readings, and wondering whether you have an AC current interference issue?
Facing the need to meet NACE Standard SP0177-2014 (about using coupons) and aren't sure how to get there?
We have your solution.
We developed the STELTH 7 IR-Free Probe and STELTH 7 Rocket reference electrodes to solve these problems… as well as give you more features than you thought possible.
Our STELTH 7 solid-state reference electrodes are designed to:
Take ON-potential and IR-free OFF-potential readings of a structure without consideration for any outside influences such as nearby rectifiers, anode beds, electric transmission lines, trains, subways, and even steel in concrete – while reading only the single worst potential that exists on that structure (based on NACE Standard SP0177-2014).
Easily allow any remote monitoring and control system ( such as our DART RMU) to automate the IR-Free ON-potential and OFF-potential readings of a structure.
Eliminate expensive GPS, high amperage or any interrupters for rectifiers altogether. Instead disconnect your DC coupon to take your OFF-potential readings.
Take on- and off-potential readings of pipelines with sacrificial anode systems.
Take current density readings of the STELTH 7 coupon representing the structure in your cathodic protection system.
Have a minimum design life of 30 years and infinite shelf life; you can retire before your company will need to replace the reference electrodes you installed!
All-in-one solution with no need of external coupons in order to take your CP readings.
Be reliable; the STELTH 7 will maintain a stability of ±5 millivolts over 30 years.
Be reused; STELTH reference electrodes can be taken in and out of service as many times as you'd like.
Operate in all ranges of soil and water conditions, depending on which chemistry you choose, your STELTH will thrive in any climate, including desert dry soils, flood zones, swamps, fresh water and ocean environments.
Just a few reasons BORIN STELTH solid-state reference electrodes are unique:
Never need recharging or recalibrating
Impregnated with membrane that keeps electrolytes from drying out or getting contaminated
Trap hydrogen sulfide or excess chloride ions before they cause damage
Let you know when you have dangerous levels of AC to deal with
Can thrive in ALL environments, even those chemically detrimental to other reference electrodes
Remain accurate for their lifetime
Won't die every winter
BORIN stands behind every STELTH reference electrode you buy:
We test EVERY SINGLE reference electrode we make
You can track/trace any STELTH
Every STELTH is calibrated for the life of the cell
Our STELTH reference electrodes will work for years and remain stable after you retire
FEATURES
MODELS
INSTRUCTIONS
DRAWINGS
ORDERING INFO
Uses
Both STELTH 7 IR-Free Probe & STELTH 7 Rocket: measure ON-OFF Potential, Depolarization Potential, and DC Current Density, 100 mV Shift
Size
Varies depending on model
Standard Lead wire
20′ of RHH-RHW black #16-5 tray cable (any length of wire available)
Material
High Impact ABS, ceramic with Moisture Retention Membrane (MRM™)
Service Life
Minimum 30-year service life
Shelf Life
Infinite shelf life, infinite stability
Certified Potential Range
Working Temperature Range
32° F to +176° F (0° C to 80° C)
Material Temperature Range
-60° F to +185° F (-51° C to 85° C)
STELTH® 7 IR-Free Probe & STELTH® 7 Rocket Solid-State Reference Electrodes
Dimensions of product:
Varies depending on model
Weight of STELTH 7:
Varies depending on model
Weight of Wire:
0.20 lbs per 10 linear feet
Standard Lead Wire:
20′ of RHH-RHW black #16‑5 tray cable wire
(any length of wire available)
BORIN Manufacturing
Address:
5741 Buckingham Pkwy. Unit B
Culver City, CA 90230
Phone:
(310)-822-1000
Email:
borin@borin.com