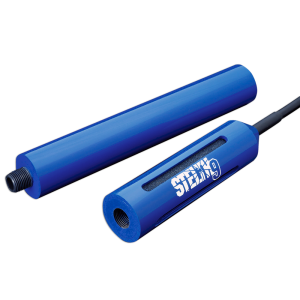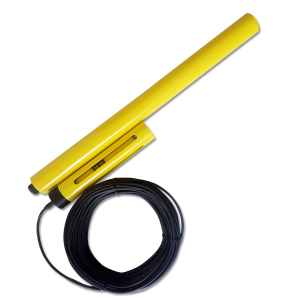 STELTH 9
BORIN STELTH ® 9 Solid-State Reference Electrode for Deep Water Service
If it's deep water or high water-current applications you're dealing with, our BORIN STELTH 9 reference electrode is for you. It has been designed specifically for your projects that require a reference electrode to be immersed in water (sea, brackish, or fresh water, depending on the chemistry you choose) as its crush-proof body will withstand the high pressures or high water currents at any depth.
The STELTH 9 comes with two parts: the core side made with high-impact ABS protecting the ceramic and reference electrode inside, and the interchangeable longer, weighted side made of sturdy high-impact ABS housing and calibrated stainless-steel weight (choose from 5, 10, 15 and 20 lb. weights). Both pieces will not deteriorate, even in highly-corrosive environments.
Thanks to its rugged design, the STELTH 9 reference electrode requires no maintenance of any kind.
Just a few reasons BORIN STELTH solid-state reference electrodes are unique:
Never need recharging or recalibrating
Impregnated with membrane that keeps electrolytes from drying out or getting contaminated
Trap hydrogen sulfide or excess chloride ions before they cause damage
Let you know when you have dangerous levels of AC to deal with
Can thrive in ALL environments, even those chemically detrimental to other reference electrodes
Remain accurate for their lifetime
Won't die every winter
BORIN stands behind every STELTH reference electrode you buy:
We test EVERY SINGLE reference electrode we make
You can track/trace any STELTH
Every STELTH is calibrated for the life of the cell
Our STELTH reference electrodes will work for years and remain stable after you retire
FEATURES
MODELS
ORDERING INFO
Uses
For Deep Water Service, has extra weight to facilitate application at deep submerged levels
Size
5 pound: 2″ (51 mm) width x 20″ (508 cm) length "space-age" ceramic tube (different weights available)
Standard Lead wire
100′ (30.5 m) of #10 RHH-RHW black wire (any length of wire available)
Material
18.8 Stainless steel, high-impact ABS and a ceramic plug with Moisture Retention Membrane (MRM™)
Service Life
Minimum 20-year service life
Shelf Life
Infinite shelf life, infinite stability
Certified Potential Range
Working Temperature Range
32° F to +176° F (0° C to 80° C)
Material Temperature Range
-60° F to +185° F (-51° C to 85° C) file not found
STELTH® 9 – Hydrocarbon-Proof (Pd-PdCl2)
Model SRE-051-HCP
For crush-proof and weighted deep-water applications in any chloride environment.
STELTH® 9 – Copper-Copper Sulfate (Cu-CuSO4)
Model SRE-037-CSY
For crush-proof and weighted deep-water applications in low chloride environments (with chloride plus bromide levels in up to 1,000).
STELTH® 9 – Silver-Silver Chloride (Ag-AgCl)
Model SRE-038-SSB
For crush-proof and weighted deep-sea applications in seawater/chloride environments (with chloride plus bromide levels in excess of 1,000 ppm but less than 19,000 ppm).
STELTH® 9 – Zinc-Zinc Sulfate (Zn-ZnSO4)
Model SRE-039-ZSR
For crush-proof and weighted deep-water applications in low chloride environments (can tolerate chloride plus bromide levels up to 1,000 ppm).
BORIN® STELTH® 9 Solid-State Reference Electrode for Deep Water Service
Dimensions of product:
5 pound: 2″ (51 mm) width x 20″ (508 cm) length "space-age" ceramic tube (different weights available).
Standard Lead Wire:
100′ (30.5 m) of #10 RHH-RHW black wire (any length of wire available).
BORIN Manufacturing
Address:
5741 Buckingham Pkwy.
Unit B,
Culver City, CA 90230
Phone:
(310)-822-1000
Email:
borin@borin.com
Standard shipping time:
24 hours (or less) from order placement